WARNING: this news is coming in by the minute, is absolutely subject to change, and is based on leaks by conflicted sources, both official and unofficial. Users of AS9100 should not panic, as I'll be hunting down the real facts as quickly as I can. Check updates at the bottom for recent additional information.
Be sure to subscribe here for headline updates! This information will be crucial to your company if you are currently certified to AS9100! You are not added to any spam lists, and your information is never sold.
---
A post by the consulting firm simpleQuE on LinkedIn dropped a bombshell that the IAQG may quite have wanted to be released yet. The post was to promote the participation of simpleQuE's CEO, Jim Lee, on the IAQG, but then claimed, "the AS9100, AS9110, and AS9120 standards are intended to be updated in 2024 and released as IA9100, IA9110, and IA9120."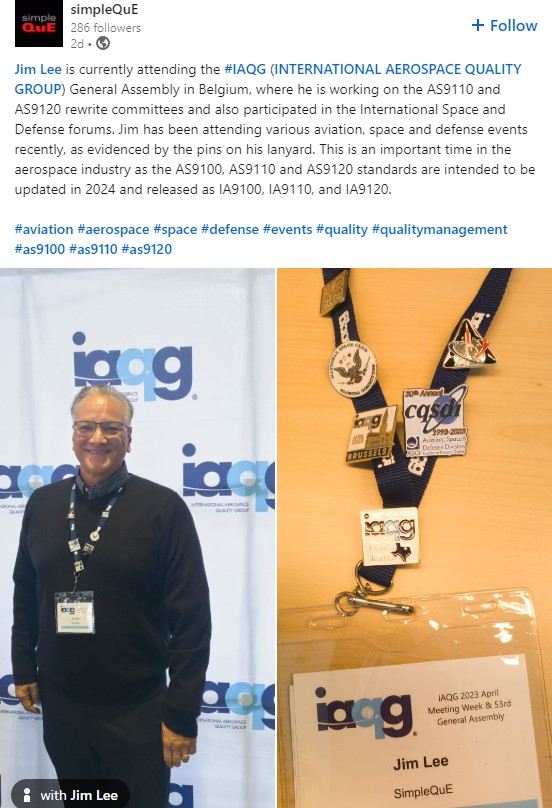 This, in itself, shows why the IAQG should not be allowing consultants to comprise such a large extent of their standards development committees. They use their roles on committees to "clout-chase" and market their participation, rather than actually participate. IAQG "liked" the post, but privately, they must be absolutely furious.
To be honest, the move to rebrand AS9100 to IA9100 (for "International Aerospace 9100") caught me completely flat-footed. In digging, since, I've only found a handful of references. I've collected them here to try and build as clear a picture as we can of this new IA9100 update.
January 2023: IAQG WIP Post
The IAQG website was quietly updated in January to refer to a work-in-progress (WIP) project on IA9100, and says this:
The completed, revised standards must (1) be compatible with the IAQG strategy and mission (2) be suitable for use by all sizes and types of organizations in the aviation, space, and/or defense sectors, and (3) achieve recognition by the various authorities.

The scope and intent of the revisions are to:

make changes to existing requirements only if improvements are necessary based on common industry user experience (fix what's broken, improve where it is essential)
limit the adoption of any new requirements and only consider those that have industry wide interest or expand upon the concepts introduced in the previous revision, and assure that the resultant standard will allow a common interpretation by organizations.
Specific areas to consider based on stakeholder input:

Ethics
Product Safety
Data Management and protection/Cyber Security
APQP linkages
Technology adoption
A footnote to that entry is labeled "Rationale" and appears to be a list of updated topics relevant to the revision:
Rationale: 5 Year Review Criteria has been completed and indicated a more than adequate response from interested parties for a revision.

1. New concepts are matured, are well understood and accepted by interested parties

2. New technologies have been accepted as within the scope of the IAQG

3. Controversial issues have been resolved

4. Coordination has been done with interested parties

5. Scope of the revision is defined in detail (Design Specification)

6. No copyright restrictions exist

7. New or changing requirements have been identified and are aligned to the scope

8. Design Specification has been developed

9. Prepared to begin writing – IDR and SDRs agree that preparation is complete 10. Schedule, dates and project plan have been provided to the RSSL for approval
There are a few takeaways from that post. First, that the decision to update AS9100 was done without participation by current AS9100-certified companies, and done entirely by the IAQG members themselves. This is not surprising, since the IAQG operates only to serve its members (aerospace primes). It does not have the "public participation" expectation that ISO has.
Next, the bullet point (6) on "copyright restrictions" can be read that the new standard will finally decouple from ISO 9001, a pairing that hasn't made a lot of sense anyway. But that reference to "copyright restrictions" could mean a lot of things, so we shouldn't assume that yet. Also, Platinum's leak tried to tie the AS9100 update to the ISO 9001 update; this doesn't make sense, however, since while ISO is pushing to update ISO 9001 (in violation of world consensus), it will not be releasing that update this year (in 2023), so a 2024 release of AS9100 as a result of an update to ISO 9001 doesn't make any sense. Platinum doesn't appear to have a clue, either.
March 2023: APAQG Conference Leak
In March, the Asia Pacific Aerospace Quality Group, the IAQG's Asian partner organization, announced a conference in Singapore that included this language in the promotion:
Leads and subject matter experts from the various APAQG teams and standards working groups will be sharing updates and information on … 9100 Quality Management Systems International Aerospace standards revision updates – IA9100
That was not wisely seen by Western readers, so totally flew under the radar.
It's also worth noting that much of the Asian Pacific work is being promoted by two representatives of Mitsubishi, Suguru Watanabe and Jun Nishiguchi. This is notable because Mitsubishi in Japan has lost its AS9100 certification in dozens of companies due to fraudulent quality inspection practices, a stunning scandal that is rocking Japan, but has not been reported in the US at all. (I have a story working on it, but it's taking a lot of time to research.) That said, the Mitsubishi division where Watanabe and Nishiguchi work is not the one involved in that scandal. It's still not a good look for IAQG to be putting Mitsubishi on the front lines of its PR campaign here, though.
April 2023: IAQG Annual Report
In what was largely missed by nearly everyone, the 2022 Annual Report of the IAQG, published just one week ago (April 14th, 2023), dropped this tidbit, tying the update of AS9100 to the update of ISO 9001:
The 9100, the IAQG's flagship standard, has completed the Five-Year Review process, and the publication projected timeline is targeted for between late 2024 to late 2025, depending on ISO 9001 timing.
This still makes no sense, however, since despite aggressively working on an update to ISO 9001, ISO still insists it actually isn't doing so, and there's no way an ISO 9001 revision would be published in 2023 or 2024 to enable the publication of IA9100 in 2024 or 2025.
April 2023: Platinum Leak
Likely just copying the IAQG Annual Report information, the Platinum Registration website was quickly updated to read, "it is anticipated that a new revision of AS9100 will be issued in late 2024-late 2025 timeframe, depending upon the ISO decision to launch a revision of ISO 9001.  It will be called IA9100."
Yes, Platinum is a clout-chaser, too.
Tying this to IAQG's "Single SDO" Plan
Now, much of this is likely tied into the IAQG's recent efforts to unify the various international bodies that sell AS standards under the SAE/IAQG brand, by what it calls the implementation of a "Single Standards Development Organization." The IAQG has been talking about the Single DDO move for a while now, and in March discussed it briefly in a podcast with Watanabe, available here. Watanabe gives nearly no insight into it, however, and the podcast is largely information-free.
An article written by Alan Daniels on the Single SDO was published by ASQ in February, but is locked behind their paywall. The only public snippet is this:
The International Aerospace Quality Group (IAQG) is undergoing its biggest transition since its official inception on June 9, 1999. IAQG wanted to reduce the flow time of standards development, balloting and publication. To do so, it investigated what it would take to become a standards developer organization (SDO) or to transition from multiple SDOs to a single SDO. The decision was made to pursue an agreement with SAE, the SDO for the Americas.
I managed to get a copy of that article, and it reveals that breaking from ISO was a huge part of the Single SDO thinking (emphasis mine):
The problem with working with ISO TC 20 was that WG 11 desired an aerospace industry-controlled and focused standard. With this transformation, it sought new computing resources, updating how everyone works together, new work floor workflow tools and a new certification system building off a previous online aerospace supplier information system platform. ISO uses a country-based system. Its processes and standards simply weren't suited to developing a detailed industry-specific standard.
The short version is this: the Single SDO plan aims to have AS standards be centrally developed by the IAQG and then sold, solely, on the SAE website. There's also an element of this, as seen from the quote above, to break from constraints created by waiting for ISO to update its standards.
None of the Single SDO information — of which there is precious little — mentions IA9100 at all. But it cannot be a coincidence that these huge initiatives are happening at the same time. When IA9100 is released — whenever that is — SAE stands to make a lot of money, and the new Single SDO will ensure that SAE gets 100% of it, and international partners can't resell it. We can't underestimate the commercial drivers behind an update to AS9100.
Rumor: ISO's Climate Change as Final Straw
Take this next bit as complete unsubstantiated rumor (which I am working feverishly to nail down as either fact or fiction.) But early comments from some well-placed sources tell me that ISO's move to inject climate change into ISO 9001 — which would then infect AS9100 due to the two standards being coupled — was the "last straw" and is pushing IAQG to decouple from ISO. Multiple sources told me that while they agree climate change is crucial, they see through ISO's transparent push to align itself with the UN (possibly to get set up Segio Mujica for a doomed run at the ISO Secretary General seat), and they are not playing along.
There's a lot of this that makes sense, and a lot that doesn't.
First, the IAQG report claims that the AS9100 update is being triggered by the update to ISO 9001; that means they are not decoupling. But that is also patently false, as I explained. You can't update IA9100 in 2024 if the ISO 9001 standard won't be updated until about 2026, because we have this thing called "time." But IAQG could be saying this to keep ISO in the dark on its plans to decouple, until they actually pull the trigger.
But the reference to "copyright" concerns (above) also hints that the continued reliance on ISO intellectual property is something IAQG is aware of, and probably hates.
Let's face it: there is no way that IAQG is going to add a lot of language about "climate change" or — if the new set of leaks is true, "gender equity" — to IA9100, unless ISO 9001 only references these things in non-binding "Notes." ISO and Mujica have grossly overreached, and overestimated their market; people don't want off-topic themes in standards, and ISO has lost the plot. Their sales will plummet, and for sure the SAE is keenly aware of this.
What This Means Now
As I said, I will have a lot of updates on this news coming in the next days and weeks. This will be crucial, and since we're not paywalled, accessible to everyone.
For now, we have no idea what the content of IA9100 will be, nor how dramatic the changes will be. For sure, we do know the new version will contain new requirements related to ethics, product safety, data management and cybersecurity, APQP, and something called "technology adoption" (whatever that is.) This suggests a significant re-write.
Whether the core ISO 9001 language is jettisoned remains to be seen.
It is likely that the standard would not be produced in 2024 at all, but instead in 2025. Then, the IAQG would likely adopt the IAF's practice of allowing a 3-year transition for currently-certified companies, making IA9100 certification deadlined in 2028.
But this will mean companies will have to overhaul their current AS9100 quality systems, meaning a boon for consultants like simpleQuE. Which explains the gleeful leaks.
---
UPDATE 22 April 2023 1:50 PM Eastern: Just got off the phone with someone who was present at IAQG meetings, but not part of the actual standards-writing committee. They tell me that the rough plan is as follows:
(1) Update AS9100 to "IA9100" for branding purposes only.
(2) If possible, issue this to include new aerospace requirements, such as cybersecurity, without touching the core ISO 9001 text. If not possible, simply re-issue AS9100 Rev D as "IA9100".
(3) When ISO 98001 updates, update IA9100 again, to include the new, updated IA9100 core text. No plan currently to decouple from ISO 9001.
But some of the information doesn't jive with official IAQG publications, so take this with a grain of salt. It appears even within the IAQG, members are not 100% sure what is actually happening. The standards committee is keeping things very close to the vest.
---
UPDATE 23 April 2023: In checking who might already be benefitting from this news, I did a domain name search for "IA9100.com" and found some interesting information. Someone registered that domain, along with "IA9100consultant.com," "IA9110.com", "IA9145.com," and a few others all on the same day — October 13, 2022 — using GoDaddy and its anonymizer proxies.
Given that date, so far back from the recent public announcements, clearly this was someone with inside knowledge from IAQG.
We should know soon enough which consultant did so, and if — as is likely — they are one of the consultants sitting on the IAQG's standards committee. Then we will know they used their inside information for direct market advantage. I'm not sure if this would be illegal or not, but will be checking.
In the meantime, I have filed an official OASIS feedback ticket, submitted to IAQG President Andy Maher, asking them to investigate.
---
UPDATE 23 April 2023: Jim Lee at simpleQuE responded "No" when asked on LinkedIn if AS9100 would decouple from ISO 9001.
---
UPDATE 24 April 2023: I received this information from another party who attended the Brussels IAQG meeting last week:
The update date of EN9100 depends on a change of ISO 9001. There will be a decision in May whether ISO 9001 will be updated. If there is no update, the target is to release the [AS9100] in early 2024. If there is an update, it will be late 2024 or 2025.

However, [any] release will be done via the new Single Document Owner (SDO) process and therefore it will be [released as] IA9100.
From this, it seems IAQG is still not fully clear on how ISO standards are updated. If, as the source says, the IAQG officials think ISO will decide on updating ISO 9001 in May of 2025 — which is likely — that does not mean the revision will be published in May of 2025. In fact, unless ISO plans to violate every rule it's ever created, it would take them at least two more years to generate a fully-approved, final International Standard (IS) draft for voting. So the best they could hope for is a new ISO 9001 in 2027, with the updated IA9100 to happen a year after that, in 2028.
Assuming all this, it's guaranteed we are getting an early update to AS9100 — to be rebranded as IA9100 — in 2025, and then it will be updated again once ISO 9001 is updated.
And the official line is that IA9100 will not decouple from ISO 9001.
---
UPDATE 24 April 2023: A reader pointed to this IAQG press release related to the Single SDO initiative from about June of 2022, but it's not actually dated. That release does mention the new "IA" prefix would be adopted, but doesn't specifically say that AS9100 would become IA9100. That press release says nothing about IA9100 specifically, nor does it discuss revision dates.
It's conceivable, therefore, that a consultant not involved in the IAQG saw the press release, assumed the "IA9100" name was happening, and registered the IA9100 domain names a few months later. Conceivable, but not likely.
Christopher Paris is the founder and VP Operations of Oxebridge. He has over 30 years' experience implementing ISO 9001 and AS9100 systems, and is a vocal advocate for the development and use of standards from the point of view of actual users. He is the author of Surviving ISO 9001 and Surviving AS9100. He reviews wines for the irreverent wine blog, Winepisser.